"When implant knowledge and experiences are shared,
all of our practices and patients benefit tremendously" -C. Misch
---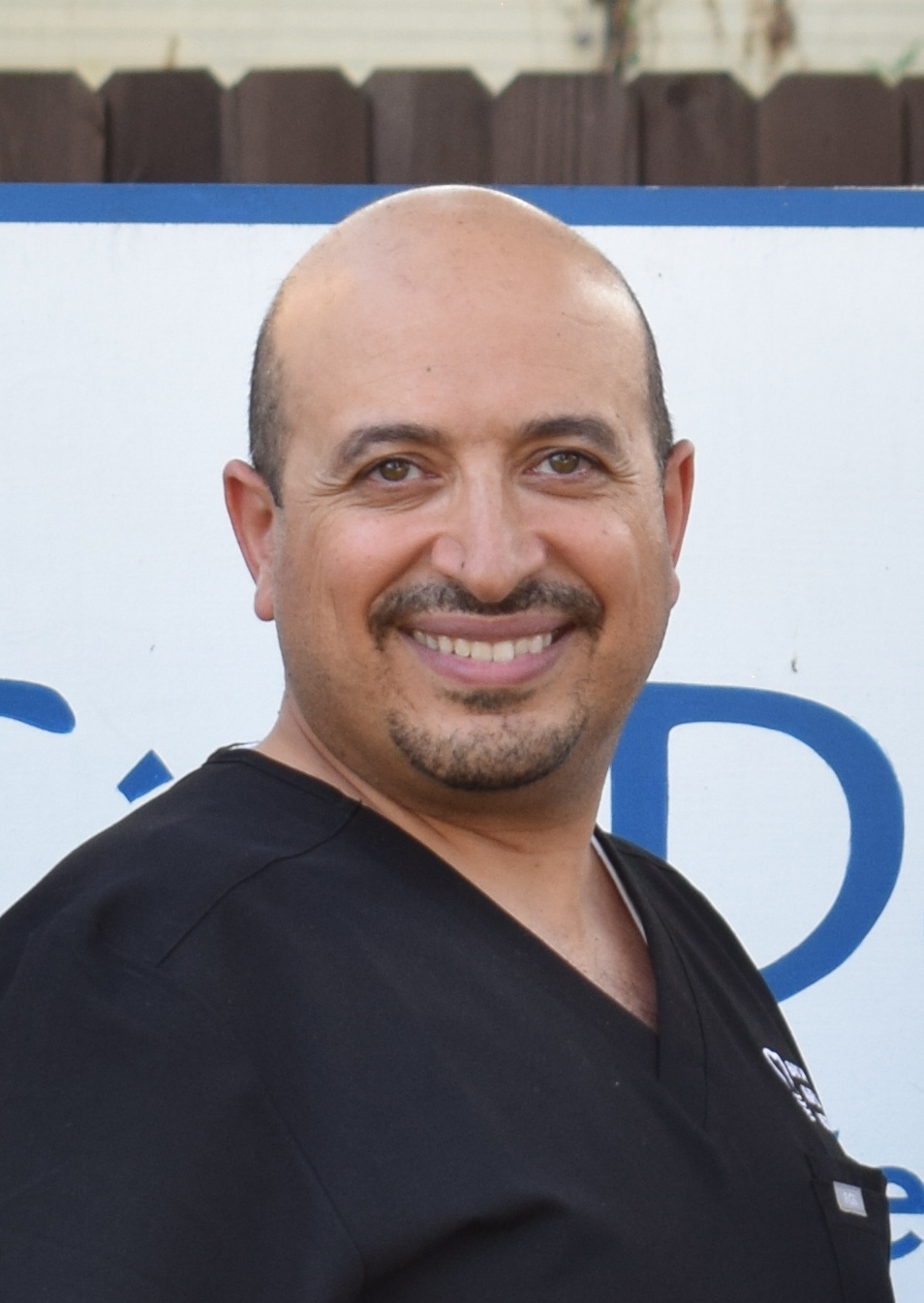 Ihab M. Hanna, DDS, FAAID-DABOI
Dr. Ihab M. Hanna graduated, with honors, in 1994 from Cairo University. Afterwards, he spent three years in training and hospital residency before moving to San Francisco. He completed two years of General practice residency at the University of Illinois, as a chief resident, where he acquired additional training with the use of Dental Implants, sedation and special care dentistry. Dr. Hanna is founder of several implant training institutes for the GP, and a speaker for dental implant companies With over 25 years of implant dentistry experience . He is committed to sharing dental implant education to the general dentist community.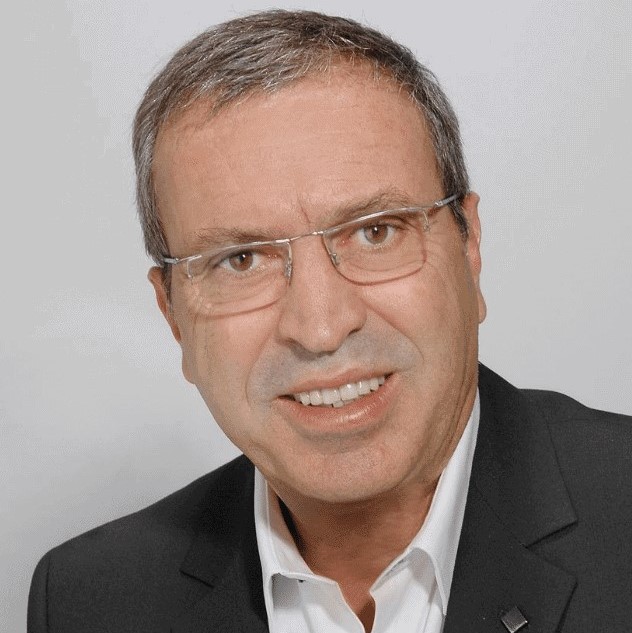 PRF Lecture By Dr. Joseph Choukroun
Dr. Joseph Choukroun studied medicine in Montpellier, spent five years as a surgeon, then as an anesthesiologist, then as a pain specialist. With the help of Dr. Schleicher, he proposed the first PRF protocol. He invented three PRF techniques: L-PRF, A-PRF and i-PRF. In 2003, he organized the first SYFAC, an international symposium on growth factors.  He is a tireless lecturer throughout the world and the author of numerous articles in the most prestigious journals.Dr. Choukroun earned his M.D. at the University of Montpellier, France and is owner of a private pain clinic in Nice.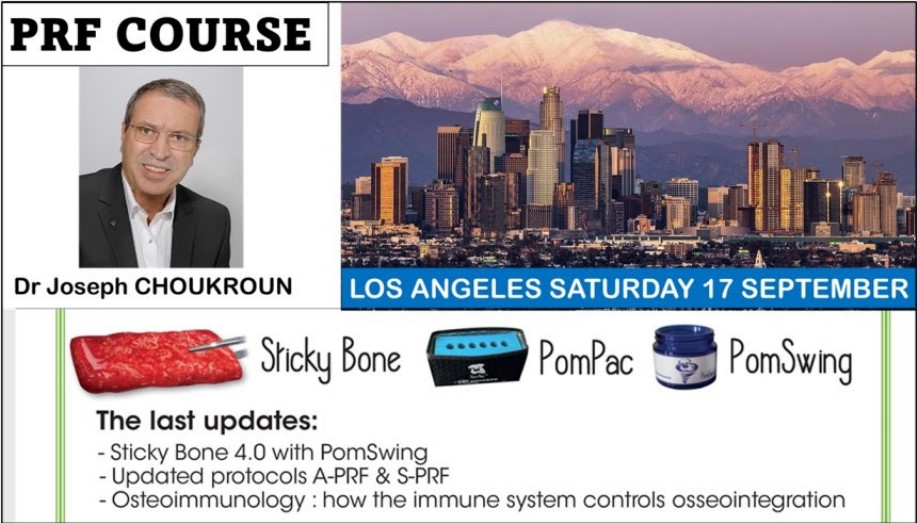 ---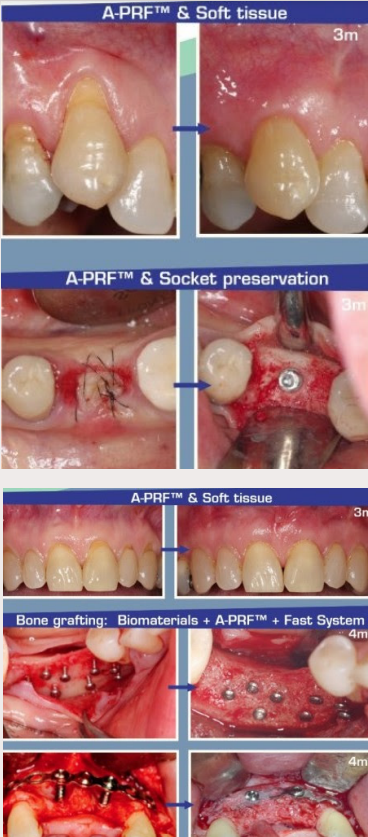 PRF Lecture By Dr. Joseph Choukroun
Objectives: After completing this course, the participant will learn:
Concept, preparation, protocol of Platelet rich Fibrin PRF :
Evolution of PRF protocols in the last 20 years: PRF solid & PRF liquid
Mechanism of action: PRF on soft tissue and bone
Last innovations 2020- 2021: Pompac – PomCol - PomSwing
How to use PRF in different indications
PRF handling in each indication.
Sticky Bone 4.0: the new protocol producing sticky Bone in few seconds.
How PRF becomes non efficient ? (Failures)
Osteoimmunology and Oxidative stress: the mechanisms of failures in oral surgery. Role of Vit.D and antioxidants on the immune system. Influence of immune system on angiogenesis and wound healing
Hands on workshop of the latest protocols of sticky Bone.
DATE: Saturday, September 17, 2022
Time: 9:00am to 5:00pm
CE LECTURE HOURS: 8 CE UNITS
FEE: $ 1265
LOCATION: The Westin South Coast Plaza,
686 Anton Blvd, Costa Mesa, CA92626
To Register, Early BIRD SPECIAL:$1165
before September 5th , 2022
---
Caution for participants: Participant must be cautioned about the potential risks using limited knowledge when integrating new techniques into their practices.
Disclosure of instructors: no financial interest in any commercial companies. RWC Implant Study Club has no financial relationships nor is sponsored by any dental suppliers. 
Cancellation Policy: Cancellations accepted up to 2 weeks prior to course.
Refund Policy: No refunds 2 weeks prior to course date
---
---
We Look forward to your attendance at our next Lecture
RSVP, Please Contact Yelena Shamilova, Executive Assistant.
Phone: 650-701-1111
Email: [email protected]
www.rwcimplantclub.com
Thank you for your referrals and for your great support.
---
---

ADA CERP is a service of the American Dental Association to assist dental professionals
in identifying quality providers of continuing dental education.
ADA CERP does not approve or endorse individual courses or instructors,
nor does it imply acceptance of credit hours by boards of dentistry.
Phone: 650-701-1111
Fax: 650-701-0960
20 Birch Street
Redwood City, CA 94062